Members and guests were welcomed by Andrew Knowles, President of the Chamber of Commerce, at the Weymouth and Portland National Sailing Academy for the July Business meeting. Much conversation took place over tea and coffee, mainly about the amazing Summer which decided to change for the day and blow everyone away from the wonderful outside terrace.
Once everyone was seated and had enjoyed the very large breakfasts on offer, this meetings sponsor and speaker was introduced. President Andrew did point out that congratulations were due to Weessex FM for their 25th birthday, however, the Chamber is actually in it's 100th year!
Rick Simmonds, Managing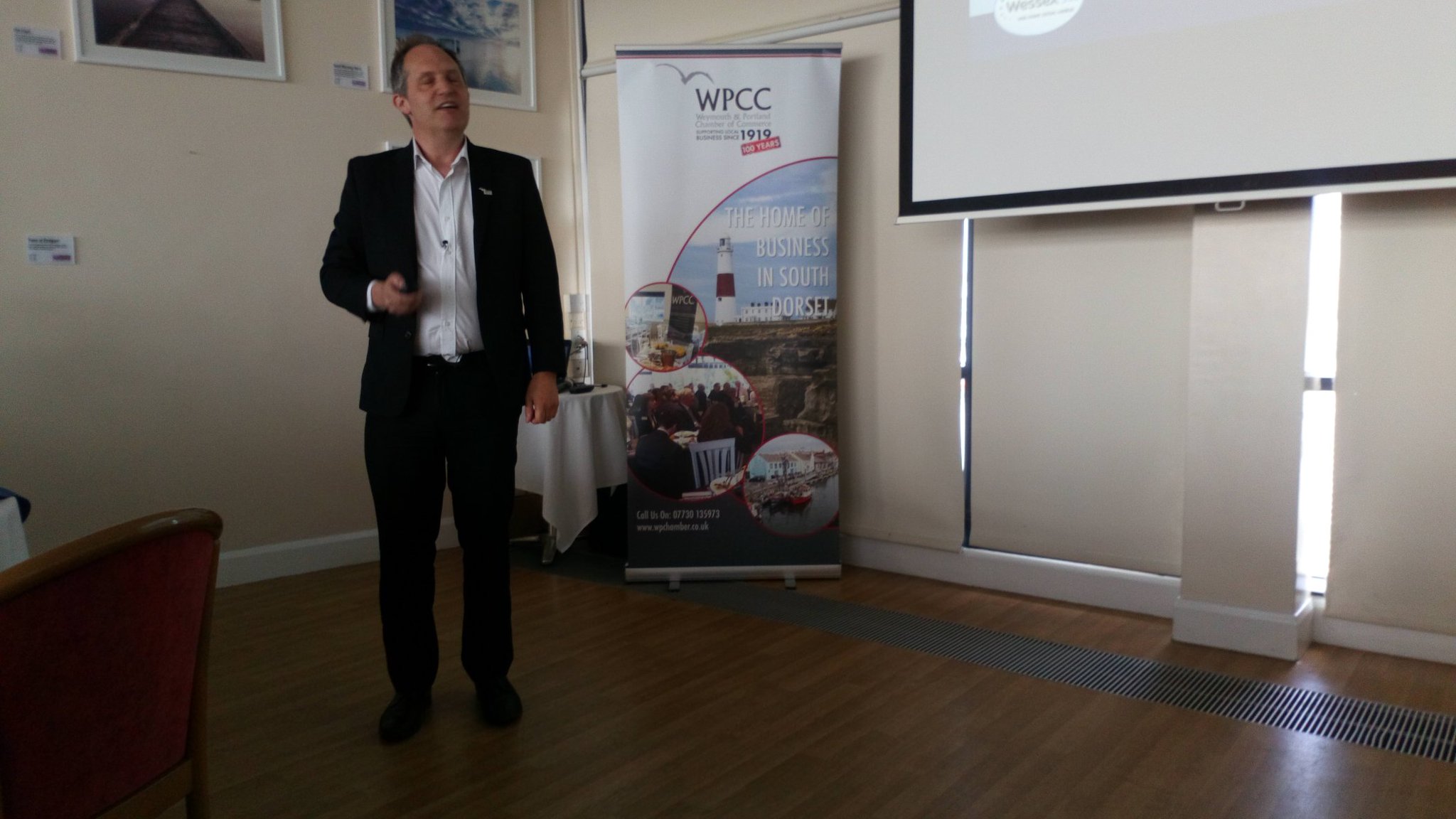 Director of the local radio station Wessex FM began by presenting the new Wessex FM logo which indicates all the areas covered these days by the company from radio to social media, websites and more. In 1993 Lional Blair and Tony Blackburn launched the station, John Major was Prime Minister, teletext and oracle were popular for booking holidays and the World Wide Web was started! Today Wessex FM has 51,000 listeners with a 41% coverage of the local population.
Rick stressed the continuing importance of traditional media. The radio can be key in the background with repetitive messages going out, with his final comment and slogan perhaps for the radio station -"Frequency Trumps Reach".
President Andrew thanked Rick and Wessex FM and in jovial summer mood went on to Congratulate the Weymouth BID for the recent successful town businesses vote for a second term. Claudia Moore,  the BID Chief Operations Officer, thanked everyone for their support.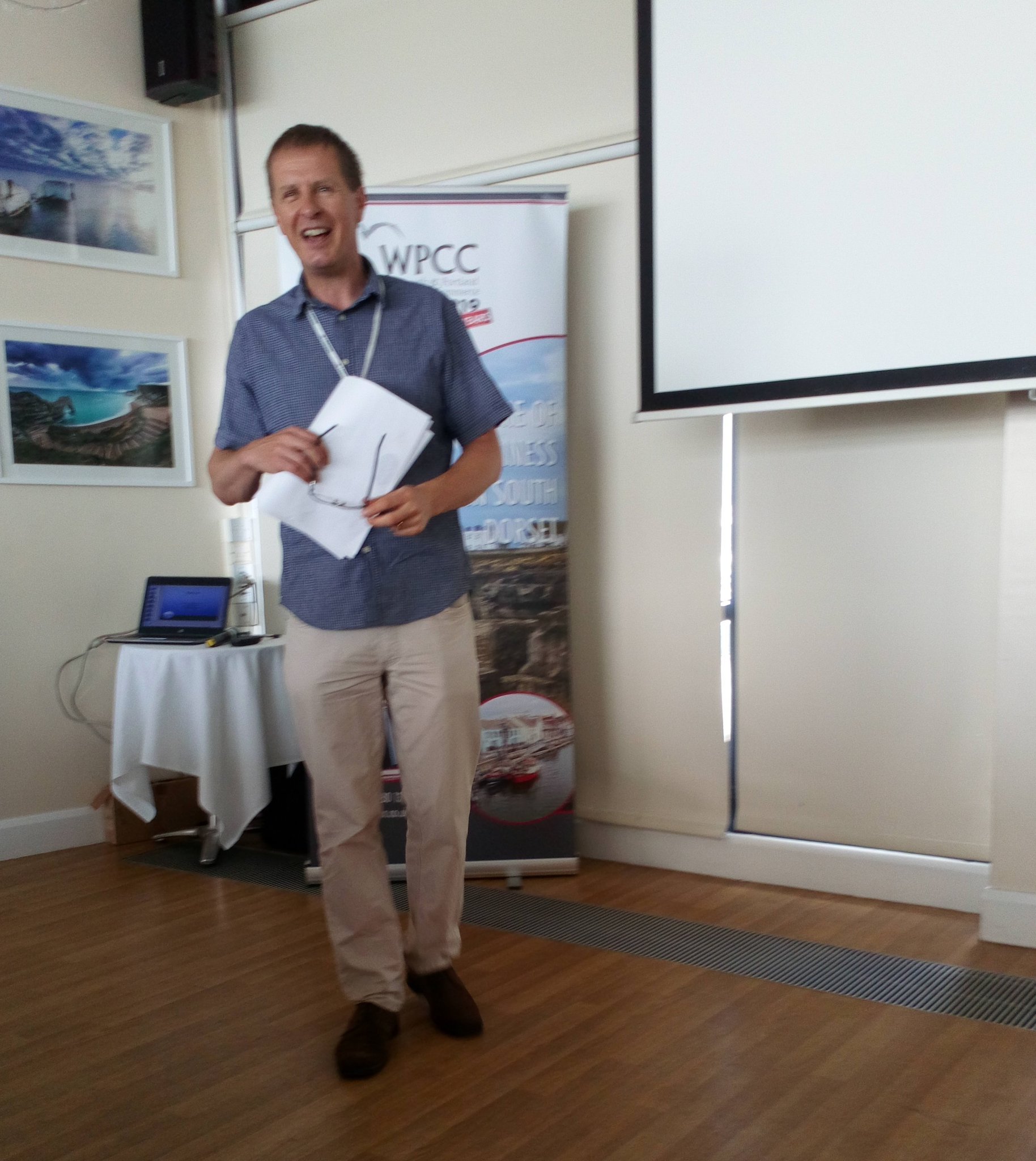 Craig Oakes of the WPCC Executive committee finished the meeting presenting details of the new WPCC Service, Trade, And Retail Awards (S.T.A.R.). This is open to all businesses of all different types.
Craig said "As part of the Weymouth & Portland Chamber of Commerce Centenary celebrations we wanted to give something back to small businesses in the area."
"It is for local independent businesses who really want to show off what they have to offer or who want to big their staff or premises up."
Benefits:
You will be positively mystery shopped and will receive a confidential report which you can keep for absolutely nothing. These reports are usually very £200 per business although the results can often help any business to grow exponentially.
Finalists and a guest will be invited to a lavish ceremony with a 3 course meal arranged by Students of the Hix Academy founded by Celebrity Chef Mark Hix.
Annual membership to the Weymouth & Portland Chamber of Commerce during the centenary year 2019. (Please note if you are already a chamber member you will win a credit for 2019) standard cost for established businesses is £99
Winners will be announced publically in local media.
How to enter:
Old School: Complete form with a pen and tick as many categories as you would like to enter and then drop the form into handy collection places in Weymouth (Goadsby & Harding) Opposite Nautico Lounge and in Easton Portland (Whitestones Art Cafe next to Nantes Solicitors) you can also scan and email to richard.knight@shopperanonymous.co.uk
Online:  http://www.wpchamber.co.uk/wpcc-service-trade-and-retail-awards-2018/ Please save a copy of this form under the title Star Awards "Your business name".
Complete and email to richard.knight@shopperanonymous.co.uk to be returned by 15th August